We don't just build websites…we make sure that they work for you all the time.
Finding customers with Search Engine Optimisati0n.  It is a fact that up over 90% of people looking to buy a product locally will first search on the Internet for suppliers and pricing. When they find what they are looking for they will buy from that venue.  A VERY high percentage of them will then go to a local bricks-and-mortar business to buy what they want.
Search Engine Optimisation can help you be the business they go to!
The following statistics are from a recent survey in the US conducted by Bright Local.  CLICK HERE for the complete survey report.
Qu 1. How many times have you used the Internet to find a local business in the last 12 months?
This question sets the scene for the survey and identifies how regularly respondents use the internet to find local businesses. The frequency of usage is on the up (no surprise there).  Infrequent users are becoming more regular in their use of the web to locate their right local business to use.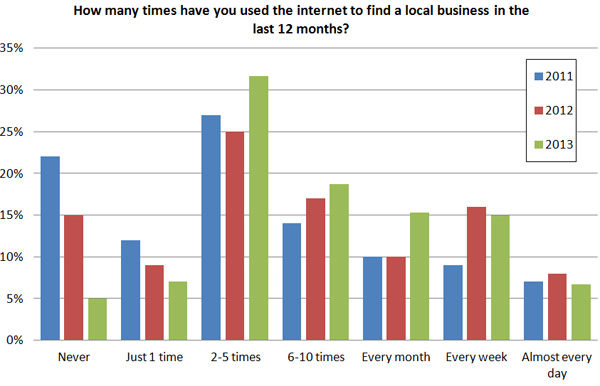 Key Findings:
Just 5% of consumers had not used the internet to find a local business in the last 12 months ( down from 15% in 2012)
37% of consumers used internet to find local businesses at least one time per month (up from 34% in 2012)
Analysis:
The increase in usage at the bottom end of the chart (left hand side) provides the most significant development on this chart.
This move from never using or 'Just 1 time",  occasional usage (2-5 times/year) represents a big behavioral shift. These consumers are getting a taste of how easy & helpful it is to find local businesses online.  We can expect them to become more regular users as long as they find the experience a positive one!
Interestingly "highest frequency' users (those using the internet more that 1 time per week to find local businesses) actually fell slightly from 2012.  This fall is not significant enough to draw any strong conclusions or trends from. It, most likely, can be attributed to the changing make-up of our consumer panel rather than a change in global user behaviour.
Search Engine Optimisation is still among the best and most cost-effective ways to rank your web site.